Natural Park Sierra de Cazorla, Segura y Las Villas
This is the largest natural park of Spain and locates in the north-east of the province of Jaén where the Segura and the Guadalquivir rivers rise. It offers an amazing landscape diversity that goes from the 650 meters in its lowest quote where the Tranco Reservoir lies to the summit of Las Empanadas with 2.107 meters high. There are also some narrow valleys like that of the Borosa, Hornos or Aguasmulas rives and wide valleys like the Guadalquivir's.
The natural space consists of four mountain chains: Cazorla, in the west border with the El Adelantado Parador Nacional hotel; and the mountain chains of Las Villas, el Pozo and Segura. Its rough orography enables the existence of many rivers and streams. The Segura river forms a natural reservoir inside the Park, that of Anchuricas and continues its way through the mountain chain.
Certainly, the tourist activity is one of the economic resources of the park par excellence, besides wood and sheep.
Thanks to the revival of energetics activities and its ecological values it deserved the classification of Biosphere Reserve in 1983, through it was National hunting reserve since 1960. Later on, it became Natural Park by Decree on 1989 and Special Area for the Protection of the Birds (ZEPA in Spanish).
The activities available in the park are very varied: adventure sports, trekking, speleology, paraglide and hang-glider.
The park hoards a rich historic-artistic heritage. From the almost 400 years of Arab domination and from the Reconquers period there are still many fortifications like the historic-artistic complex of Segura de la Sierra. The San Miguel Castle of Bujaraiza, the Arab and Christian castles of Cazorla and the watch tower of Tiscar.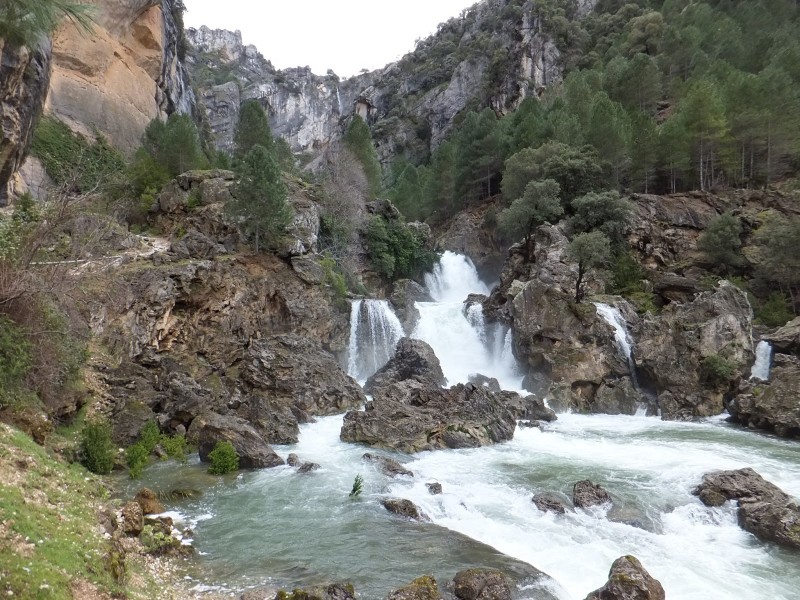 Location: Comarcas de Cazorla, Segura, Quesada y Las Villas (Jaén).
Area: 214.336 hectares.
Most common animal species: Royal snake, booted and Borelli's eagles, hawk, sparrow hawk, kite, eagle owl, black vulture, tawny vulture and osprey; fox, wildcat, genet, badger and otter; deer, roe deer, wild goat, European mouflon and boar.
Most common vegetation: Spanish pine, holm, oak, maple, oleaster, ash-tree, willow, poplar, box-tree, juniper, Cazorla violet and narcissus.
Access: free.
How to arrive: From the East Coast, road N-322 Bailén-Albacete; from Granada and Almería, highway A-315; and from the rest, the Andalucía Highway or N-322.